Deal or No Deal? Jesus "Cleanses" the Temple
Barry Hingston
July 17th, 2017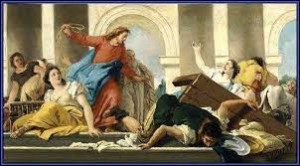 Matthew 21:12–17, Mark 11:15–19, Luke 19:45–48 and John 2:13–16).
As he came near and saw the city, he wept over it, saying, "If you, even you, had only recognised on this day the things that make for peace! But now they are hidden from your eyes. Indeed, the days will come upon you, when your enemies will set up ramparts around you and surround you, and hem you in on every side. They will crush you to the ground, you and your children within you, and they will not leave within you one stone upon another; because you did not recognise the time of your visitation from God."
Then he entered the temple and began to drive out those who were selling things there; and he said, "It is written, 'My house shall be a house of prayer'; but you have made it a den of robbers."
Every day he was teaching in the temple. The chief priests, the scribes, and the leaders of the people kept looking for a way to kill him; but they did not find anything they could do, for all the people were spellbound by what they heard. (Luke 19)
Luke tells us very briefly of the scene where Jesus, now in Jerusalem, drives the traders from the courts of the Temple. "'My house is meant for a house of prayer'," says Jesus quoting from Isaiah (56:7) and Jeremiah (7:11) respectively, "but you have turned it into 'a den of thieves'." This incident, which is in all four gospels but slightly different in John, seems to present Jesus in the guise of the angry, vengeful and angry prophet, even using violence to achieve this "cleansing" of the temple (John 2:15). It feels out of place, not eh Jesus we expect, perhaps even wrong.
Just before, we are told that Jesus weeps over Jerusalem. I think what happens next in Luke comes from a place of passionate sadness in Jesus' heart, rather than righteous anger. Jesus is passionately sad that they are missing the coming of God into their midst, and will pay a terrible price for it. Jesus is not angry for himself, nor even angry that God the Father has somehow been "wronged"; he is sad for the children of God that he loved because they were being badly led, indeed misled, and denied the knowledge of the loving Father God that they deserved.
The temple trading in question took place in the outer court, also known as the Court of the Gentiles. This is not the inner court and certainly nowhere near the Holy of Holies; it is an outer area akin to my church grounds. It is part of the Temple complex. It is not unusual in such situations for prices to be grossly inflated, just as an ice cream costs a lot more from beach kiosk than from a supermarket. There seems to be something unsavoury and undesirable in this and yes, people were making money out of Temple worship.
This was because those coming to the Temple needed to buy animals for the sacrifices and they needed to change their Roman coins into acceptable Jewish currency (shekels) to make their contributions to the Temple. Jesus had no problem about that, but what he objected to was:
• that this business was being carried on inside God's house when it could just as well have been done outside.
• The money changers were also renowned for using dishonest weights and effectively short changing people; this was a form of theft.
• The whole atmosphere and ethos of trading distracted from and spoilt the intended focus of Temple worship – on worship, repentance, purification and centring on the presence of God.
• It is possible also that priests in the Temple connived at this business and hence would certainly have profited from it.
So it wasn't good. But was this the reason Jesus became so passionate – he didn't drive Zaccheaus out of this tree with a whip and force him to repay his inflated tax demands. He is gracious to Matthew, to Peter after his denial, and to all people, even his own accusers and murderers receive nothing but grace.
I wonder. I just wonder if there is a connection between Jesus weeping, and his distraught and passionate outburst i the Temple. You see, even if the trade was honest, and nobody made extortionate profits from it, it reduced the business of Temple worship to a "transaction". The process of coming before God, making atonement for sin, restoring relationship, is a deeply spiritual thing. What I, and all priests and ministers before me, preach, is a deeply mysterious truth based on intimacy with God, being made in his image, being his representative on Earth and dying true shalom, peace in this life as well as the next. It is not payment or exchange or a deal to be done, it is not a business transaction. The sacrifices were sign of faithfulness to God's commands, the Law, and an outward expression of inner repentance. This involved many emotions – sorrow for wrongdoing, and joy for the possibility of atonement and forgiveness. There was loyalty to the faith, a duty to God, and all manner of other nuanced feelings and meanings. Their significance did not lie in their monetary value (see Mark 12:41-44, Luke 21:1-4).
But the world in which we live, are born and raised, deals mainly in the art of transacting. "You get what you pay for" is a truth instilled in us by our parents, friends, neighbours and advisors. This truth is embedded in our consciousness – if it applies to carpets, cars, smart phones and clothes, why wouldn't it apply to God? Our entire life is spent, literally, transacting. We work to earn to buy. The obsession with that process and worry over it causes us stress and sickness. If we want to be forgiven then we must pay a price, and the higher the price we pay the better our spiritual state will be. How many of us can honestly say that concept has never polluted our faith? Don't we all believe that somewhere deep down?
I don't believe that God transacts with anyone. He does not trade, he does no deals. He is pure relationship (1 John 4:8) and all He asks us to do fosters that relationship. We cannot buy it, earn it, improve it or lose it. God's love is a fact, just like an earthly father's love, but better.
So, the business of church is not to be a business. It is to be a place of God encounter. Church speaks to people of the deeper truths that get forgotten when we become obsessed with the activity of transacting. The witness of church and God is that there is much more to life than this. The physical expression of church needs money; of course – buildings, facilities, and a place for human beings to come and be – it has to be built, equipped and maintained. Furthermore, there are good reasons why it should be done in a spirit of excellence – that it should look nice, feel comfortable and witness to how we feel about God.
But it is not a transaction; it is not a place of deals. It is a place where we come, just as we are, offer up the prayers of our hearts and the raise of our song and worship, ad enter into a place of trust. Assurance. There is no deal, no trade, no transaction – for that has been done. Jesus stands as a counter-witness to all that the world has become. He stands against the relationship based on transaction that underpins so much of this world's thinking. Our Church, in its communities and through individuals, is called on to continue that mission of counter-witness.
When we find that place of unconditional love, the place where we relate to God despite our failings, possibly even because of them (!), then our faith enters a whole new place. It ceases to be about us, it becomes everything about Him. Our relationship with others is transformed, as is the inner relationship we have with our very selves – we can love ourselves more. When we do that, we can truly love.