Jacob's Ladder
Barry Hingston
July 30th, 2017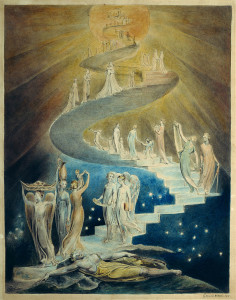 Sunday July 23rd – Sermon  – Jacob's Ladder
Genesis 28
Today I look at our Old Testament passage a story which has come to be known as Jacob's Ladder, a mysterious dream which Jacob has wilt asleep by the side of the road on his travels.
We have an ambiguous relationship with the Old Testament. It is so distant from us that it is difficult to relate to. If the story is strange we tend to rather ignore it and hope the gospel is easier. We may even to dismiss the Old Testament altogether, which in its extreme form is known as "Marcionism". Augustine gives us a good tip: Speaking of the Old and New Testaments he says: "The New is in the Old concealed, the Old is it the New revealed".
What we read about Jesus ultimately has its roots in the God revealed to us in the Old Testament, and our struggle with God is illustrated beautifully by these Old Testament characters. These people are mirrors of ourselves, ot so much models to be followed.
The one thing I want to say today is this :
God loves you not because you are good. God loves you because He is good.
So let's look at Jacob.
Jacob is Abraham's grandson, the younger of twins, born to Isaac, Being two minutes younger than his brother Esau, meant that Esau, not Jacob, would inherit what was called the "birthright". Esau would become the man to whom not just the property of Isaac would fall, but also his blessing. Esau would come the man of the covenant given to Abraham. In that time, in that place, this was a huge thing.
So Jacob tricks both his Father and his brother out of that inheritance. Jacob steals the birthright by deceiving Isaac (Chapter 27). As a result Esau hated his brother had plotted to kill him. Jacob's mother Rebekah hears of Esau's hatred and plot and tells Jacob to flee to his uncle Laban.
Jacob finds himself camping in t he open air after dark. consumed with thoughts about what he had done, Things just had not worked out.
Had he done right? How could he ever be reconciled to his brother and his father? Did reality match up the expectation? Being the man of God's promise didn't feel like a good thing anymore. Would he ever be able to return home, and if it, what was the point of tricking Isaac into blessing him? Would he ever know peace again inside?
It is fair to suppose that Jacob has reached the end of himself. You reach the end of yourself when you realise that you are dependent on the provision of God. that you can survive on your own but never prosper and thrive, and never know peace.
We all have times in our lives when the plan just doesn't work out. Whether we have done right or wrong, sometimes the plan just doesn't deliver. We are not encouraged to embrace uncertainty, and few of us are real risk takers.
1. The Real Dream
We all envy people who are "living the dream." Although the story about an actual dream where God reveals himself to Jacob, Jacob has to realise that his whole life had been a misplaced dream. The real dream we all dream is that we can make it alone on the basis on our own resources , making ourselves secure and happy, oblivious to the fact that we are independent beings.  We all depend on forces around us, and the hand of God that is upon them. Our, life, my life and yours, like Jacobs, are in God's hands no matter what we think.
However, living in my own plans without God feel like a restless place. The imagery of the story says it all – when I am my own master, it is like sleeping with a rock instead of a pillow. There is no real rest – it is a hard place.
Often I think we are not punished for our sins at all, we are punished by them.  Our actions yield consequences which oppress us despite our cleverness.  That realisation is the first step of rediscovering God.
2. God finds Jacob, not the other way round
Night overtakes Jacob. The gates of the city would be shut and so Jacob sleeps like a shepherd, under the stars. He sleeps on a rock as a pillow. As he sleeps he is overcome by an awe inspiring vision. He sees a ladder or staircase coming down to earth with angels ascending and descending. God stand above the ladder and says the words
"I am the LORD, the God of your father Abraham and the God of Isaac; the land on which you lie, I will give it to you and to your descendants. Your descendants shall also be like the dust of the earth, and you shall spread out to the west and to the east and to the north and to the south; and in you and in your descendants shall all the families of the earth be blessed. And behold, I am with you, and will keep you wherever you go, and will bring you back to this land; for I will not leave you until I have done what I have promised you." (Genesis 28:13-15).
God's promise to Jacob is overwhelming. It is the same words as he spoke to Abraham his grandfather, ad Isaac his father. You see, this promise was made by God to Abraham and by definition it implied that God would keep faith with Abraham's descendants whatever happened.
God reaches down to Jacob, reassures him, secures him and blesses him, not on the basis of Jacob's character, but on the basis of God's character.
3. God finds us in rest
It is interesting isn't it, that while Jacob could never find god by striving and scheming, he is found by God while in his sleep. God speaks to us all in this – it is by resting in him and his promises that we can be blessed.  We must enter prayer, we must listen to God, and we must not place our faith in the schemes of our own plans and programmes.
Jacob was about to leave for a twenty year wandering. Throughout those twenty years Jacob would never forget this dream – in place of the rock he had placed under his head, God's promise became the rock he rested upon.
Conclusion
One final point – this covenant relationship seldom yields immediate entrance into blissful experiences and easy paths. For twenty years after this experience Jacob was living away from his family and away from the land of promise. For much of that time, Jacob was to be administered a dose of his own medicine – he would be swindled and cheated as he had been.
But he would re enter that promise in time. Jacob became the Father of twelve sons, who could i turn become the heads of the twelve of Israel, who would in turn become the nation of Israel, which would in turn become the chosen people of God's promise to bring us Jesus.
Entering into a genuine relationship with God does not guarantee what we define as good times and happy experiences; but it does assure us of the forgiveness of our sins, the restoration of relationship with God and others over time, the hope of life eternal and everlasting following with God and those we love, and the very presence of God in our personal lives here and now.
Re-examine your life. See how much more room for God there would be, if your striving and scheming ceased.
Amen