Sermons on Exodus 2 – The Passover
Barry Hingston
September 17th, 2017
Exodus 12:1-14 The First Passover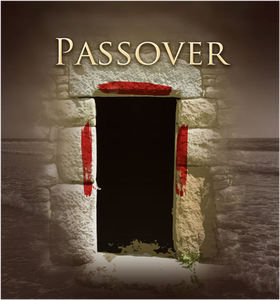 "I will pass through the land of Egypt and I will strike down every firstborn , both human and animal ; on all the gods of Egypt I will execute judgement ; I am the Lord."
My commentary states : "Who can dismiss blood on the door posts, or plagues of hail, locusts and darkness, and paint a picture of Divinity that is all sunshine and orchids?"
Today's Exodus reading challenges us to look God in the eye and consider what He is like, and our own response. We are all offered the chance to be Pharaoh and examine the possibility that God may seriously care about the way we conduct our life, who we think we are, and the manner in which we treat other people. That, and His desire to be the only object of worship in our life, seem to be the primary ethical concerns of God in Bible. If you uphold faith in the One god, and maintain social justice, then you can have your free will.
As we continue our selective walk through Exodus let me fill in some gaps. We have read of Moses infancy and upbringing in the royal household of Egypt, his fall from grace when he kills an Egyptian, forcing him to flee to Midian, and the encounter with God in the burning bush.  God calls Moses, aged 80, to a new purpose from apparent failure and loss. In my talk I asked two questions about identity – "Who are you ?" And "Whose are You?"
Our story now leaps ahead, and what see how God interacts with Egypt through Moses, who, encouraged and empowered by God goes to Pharaoh 9 times and asks a simple question: "Will you obey God and let my people go?"
Pharaoh is a proud and arrogant, man, convinced of his own deity and his right to exploit the slaves, so he says no. God then gives him a chance – He sends signs of who he is in the form of afflictions plagues that strike at the agrarian prosperity of Egypt.  He changes the water of the Nile turned into blood , sends plagues of frogs, insects , and skin afflictions, then hailstones that destroyed crops, closely followed by locusts that finished them off and a supernatural darkness. But none of these things persuaded Pharaoh that he was dealing with God, or to let the slaves go free. So God tells Moses to go to Pharaoh again which is where we pick up the story, on the eve of the final plague.
Moses says, "Thus says the Lord: About midnight I will go out through Egypt. 5 Every firstborn in the land of Egypt shall die, from the firstborn of Pharaoh who sits on his throne to the firstborn of the female slave who is behind the hand mill, and all the firstborn of the livestock. 6 Then there will be a loud cry throughout the whole land of Egypt such as has never been or will ever be again."
Moses departs from Pharaoh in hot anger (11 v 8). Moses pronounced this warning, and saw only proud defiance in Pharaoh's eyes. But this time there would be more than hardship arising from the evil arrogance of one man – people would die. Moses rage is over the innocent cost of human hubris and pride. So we set the scene for what has come to called Passover.
Think about this   :  If this story does not make you think then nothing will. Let us not slip into a mentality where we think we can understand God or explain him away; can we chastise Him or his purposes? Can we question him? I Think God would rather we questioned Him that ignored him – what do you think?
How, some will ask, can we find it possible to justify God's actions here? Not only are innocent children slaughtered by God here, but the occasion is the basis for an annual celebration by Israel, one that is to be carried on forever (Exod. 12:14, etc.). There are other occasions the Bible when God takes the lives of people directly – e.g. 2 Kings 19:35 : That night the angel of the LORD went out to the Assyrian camp and killed 185,000 Assyrian soldiers, or it the New testament when Ananias and Saphira are struck down in Acts 5.     It won't do simply to see these people as "baddies" – the implications are too large. That children's song that we sometimes sing on all age Sundays has it right in funny way: "Our God is Great Big God" is actually a profound bit of theology.
But hang on – we question God here, what about Pharaoh? Before we go on, let us consider our position as people of God and our responsibility to pray for world leaders. Though they are agents for good and great things sometimes, they can be the stumbling block upon which founder the lives of millions – Assad in Syria perhaps, as potentially Kim Jong Un in North Korea – their pride, hubris and security and fear can be the death of so many, and so it was with Pharaoh.
How do I see this text?
1. Humility on our Part
Much as our spirit rebels against it, we are obliged to praise and worship God, regardless of whether or not we understand His actions, and that, as God He is free to act in any way He chooses. The Egyptians had free will, and employed it to bring about and maintain injustice, and God chose to act. For us, it is a safe rule that, when we need to make a choice, the way of justice will be aligned with the will of God. It is a holy God whom we serve, and this text will remind us of that fact as we come to it with reverence and sincerity. Let us each ask God to prepare our hearts to take the lesson of this incident seriously. The God of the Exodus is not a comfortable God at all.
2. Grace on God's Part
Grace is God's underserved favour and always precedes any judgement: God through Moses had attempted to do the same for Egypt as he later did for Nineveh, through Jonah. There is a human messenger Moses, and a sequence of signs, proof of God's existence and power. The people of Nineveh responded to Jonah; Pharaoh did not.
The Passover of the Lord took place 430 years after the enslavement of the children of Jacob. God is slow to anger and swift to bless. Is God calling you to change something in your life? He is patient and kind but he is also sovereign.
There is far more grace than judgement in my life: Passover reminds me of god's saving grace, at least for me. Secondly, I can see numerous Passovers, acts of grace that mean I am here to tell the story.
I am mindful of the fact that a chronic asthmatic was born into western civilisation in the 20th century and not 100 years ago. I would probably not have survived infancy in any other age or society than the one I was born into. At aged 18,  at Seven Sisters tube station on the way home from watch Spurs play Manchester United, I missed by a  mere ten minutes a massive fight on the very escalator I was on,  killing one man.  In  November 1987, aged 24, I passed through Kings Cross station just one hour before a massive fire ripped through the station killing 31 people. The reason ? Directly in front of us is the inbound train involved in the Ladbroke Grove/Paddington disaster – I saw the smoke from the wreckage ; 31 people died and 500 were injured.    In 2001 the old IRA chose to bomb Ealing Broadway (we lived in Ealing at the time)  but I was away on holiday, and in 2005, of the multiple locations hit on so-called "7/7",  three of them were my regular commuting stops, on a day when I was working in Chiswick.   Would you be prepared to insure my life? Might there be a good deal of grace from God on my life?
In each case, people died, but I did not. It cannot be a matter of merit, merely of grace. Because the sparing of the Israelite firstborn was not a matter of merit, but of grace, God owned them. Since He had spared their lives, He possessed them. LIkewise, God possesses me, I am "bought at a price". The rite of redeeming the firstborn was a constant reminder to the Israelites of all subsequent generations that the firstborn belonged to God, and that this was due to the sparing of the firstborn at the Exodus. There is mystery amidst God's grace.
3.   Thanksgiving
Amidst the painful mystery that almighty sovereign God represents, amidst our anger and anguish and puzzlement as to why things happen, there is the fundamental need to celebrate, commemorate and give thanks. Passover is such a time for Jews as they remember their liberation from Egypt and creation as a free people. Christians derive their Eucharist from this event directly through the Last Supper as we celebrate God's goodness and mercy in our lives. Passover becomes Eucharist. Eucharist is Greek for Thanksgiving, giving thanks for being redeemed.
The Passover demands a response from you and me:
(i) For the Egyptians the Passover and the death of the firstborn was the final demonstration of the defeat of Egypt's gods : "On that same night I will pass through Egypt and strike down every firstborn—both men and animals—and I will bring judgement on all the gods of Egypt; I am the Lord" (Exod. 12:12).
God calls us again and again to put away the gods of this world – our reliance on worldly meaning, wealth, and worldly security. It became the first commandment, no other gods.
(ii) For Jews , The Passover was a memorial of the deliverance of Israel, accomplished by the mighty power of God: "……… For the Lord brought you out of Egypt with his mighty hand" (Exod. 13:9; cf. 13:14, 16; 3:20). The
Passover was intended to serve as a means of instruction for the future generations of Israel (Exod. 12:26-27; 13:8, 14-16). God directed that the meaning of the celebration was to be explained to the children (13:8). Passover is critical to Jewish appreciation of who they are and indeed why they exist at all. The Eucharist performs the same function for us. We exist as Christians because we have been halved, redeemed from something called sin.
(iii) So For Christians the Passover Lamb was a model, a prototype (a type) of the Messiah, the "Lamb of God" through whom God would bring redemption to both Israel and the Gentiles (Exod. 12:5-7, 46-47). There are echoes of the the Passover lamb in the Lamb of God, the Lord Jesus Christ, without defect and blemish (Exod. 12:5,  1 Peter 1:19).   John the Baptist could thus identify and introduce our Lord as Israel's Messiah by the words, "Look, the Lamb of God, who takes away the sin of the world!" (John 1:29).
And so the Passover meal was very naturally transformed into the Eucharist, the Lord's Table. Paul clearly identified the Lord Jesus as the Passover lamb: "For Christ, our Passover lamb, has been sacrificed" (1 Cor. 5:7). When you come to the table, you in effect participate in a Passover feast.
Conclusion.
Because Christ is our Passover Lamb, we are God's possession. The firstborn of Israel had to be redeemed because God had spared them, and thus they belonged to him
"You are not your own; you were bought at a price. Therefore honour God with your body" (1 Cor. 6:19-20). "You were bought at a price; do not become slaves of men" (1 Cor. 7:23).
We cannot live our lives independently, but must live them out as those who have been bought with a price and as those who belong to God.    The firstborn of Israel thus belonged to God as a result of the Passover, and all of Israel as a result of the exodus. Israel was God's possession. All of the commandments and requirements which God placed upon the Israelites were predicated upon the fact that they were a people who belonged to Him.
We are the inheritors of that mantle, that identity. We are the people of God. We may be few – the Israelites were few relative to the nations that surrounded them. We may be imperfect – Israel was very imperfect and remained so.
But that was not the determining factor. They were few and imperfect but they belonged to God, as do we. In that identity and God's grace we can do great things for Him.