Christ the King – Really ?
Barry Hingston
November 28th, 2017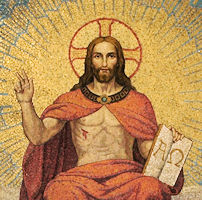 Christ the King – Sunday November 26th
Ezekiel 34
Matthew 25.31-end
Today is the last Sunday in the church year: next Sunday is Advent Sunday, the church's New Year's Day. So it is time to look back at the old year that is passing before we do it all again in about 6 weeks time !
This last Sunday of the liturgical year was designated Christ the King Sunday by Pope Pius in 1925 as a response to the political situation in the mid 1920s and the rise of authoritarian movements in Italy and then Germany and the soon-to-be prominent Hitler in Germany. The issue here was to who did you owe ultimate allegiance -Pope Pius hoped that proclaiming Christ's ultimate authority would function as a wake-up call to Christians and to nations not to be taken in by dictatorships. It seems to me that it required something rather more, but I can see what he was trying to say.
What are Kings ?
But that leads me to a strange place. For we may have a very ambivalent relationship with the idea of "King". What does the word conjure up ?
(i)       The word always used to mean an absolute ruler by right – the person who dictated what was to happen. The trouble was, encased in human form, the character of such a man or woman could never be presumed. Kings were changeable ,  capricious,  inconsistent, temperamental, perhaps even volatile. Furthermore, they were corrupted by their office – they became not just addicted to power, but attached to the very idea of power. So the medieval or ancien regime idea of King came to stand for absolutism, and often tyranny, and so went into long term decline.
(ii)     Also, by definition, Kings were materially Rich and lived in opulence. Even our Queen, not open to the other criticisms I have mentioned, nevertheless boasts a personal worth £415 M and an income of £85m per annum.
(iii)    The image of King is both positive and negative. In the US, poor old Donald Trump has been accused of many things in this past year including "acting like a King" . In America, at least, that is not a complement, associated with idea of taxes without representation, and Boston Tea Parties.   On the other hand if I were to win Strictly Come Dancing, and crowned "King of  Ballroom" or something like that,  however unlikely, it would be a compliment.
(iv)    Finally, even where we do love the monarch, as may love the monarch here, we are fans of what is called "constitutional monarchy" – a king or queen in name, but without any of the power or even the authority of what actually goes with the historic title of "King".
So, what does Christ the King mean ?
Is he an absolutist dictator or a watered down figurehead ? Surely neither is anywhere close.  In fact the second is probably worse than the first. I want to say that Jesus' Kingship is neither of these, but still carries a profound challenge for a follower of Christ, a Christian.
Today's  readings are perhaps not the one we would expect on Christ the King Sunday, not least because they don't mention the word 'king' or indeed any idea of kingship, but rather the idea of "shepherd"  :-
(i) Ezekiel : in his life Jesus revealed his kingly glory through service and compassionate action which in turn echoes God's radical, shepherd-like care for his people who, largely through their own folly, had ended up in exile. Shepherds were at or near the bottom of society in those days: that is how the God of glory describes himself in the reading from Ezekiel 34 – the True Shepherd.
(ii) Matthew :  When calling his disciples to follow his example he said that he came not to be served but to serve and to give his life as a ransom for many. Who was he serving? This is an echo of Isaiah's servant shepherd King.  Jesus, in serving the people he met, including the annoying ones and the unpleasant one that asked abrasive questions trying to trap him, was serving God,  expressing that in his service of the people he met. Similarly, as Christians, God's servants, our service is directed primarily to God even though other people are the beneficiaries of it.
That is our model of kingship through service of others. Let's be honest, it takes  will power to be kind and loving to some people. When encountering needy people, or rude people, or people we don't like, or don't like us, our higher allegiance to Christ the King needs to take over. When reading that rather rude or peremptory e-mail, we may need to take a deep breath and count to ten, remembering who we serve and responding by defusing the antagonism.
Equally, when it is easy to act lovingly to someone, the parable reminds us that we are acting lovingly to Jesus Christ, the King.
We need to take it on, not show it in pictures or songs – Appropriation not just representation
There is no shortage of imagery and symbolism of Christ the King
There is no shortage of hymns, worship songs and poetry, or other forms of worship centred on Christ the King
There are many churches called Christ the King.
The challenge is not in symbolic representation, but in appropriation of Jesus As King in MY life.
Jesus King of my character – he is our model and we do him a betrayal, a disservice when we speak rudely or lovingly to others or ignore their plight.  It matters how I talk to people, because I am an ambassador of the King. The same applies to each aspect of my character – being honest and truthful, and being generous.  It matters whether I exhibit the fruits of the spirit in my life – – love, joy, patience and self control, and so on.  It matters whether I love my neighbour as myself because that is the one true law of the King. If you don't love other people, you do not love me, says Jesus, and I am not really your King.
It is an amazing thought that Jesus is glorified in us as we live our lives, as we give our time and talent to the church and to Him. We may not see the glory that is revealed in our own life, but others should be able to see it as we offer ourselves to Christ our King to be transformed into his likeness, including by simple acts of giving of time, talent and money.   If Jesus was telling us his parable, I think he'd say, 'I was lonely and you made me feel welcome in church. I was thirsty and you made me coffee and spoke kindly as you gave it to me.
Inasmuch As we do it unto the least of these people our neighbours and to each other, we did it unto Christ the King.
Put aside the image of Jesus as the tyrannical king. And for goodness sake puts aside the image of him as the watered down constitutional monarch figurehead . Christ the King is the Alpha and the Omega, the first and the last the firstborn from all creation and he is the one in whom you have put your trust and in whom you have found your being and meaning. Make his Kingship meaningful in your life.
Prayer meditation
"Above All"
Above all powers
Above all kings
Above all nature
And all created things
Above all wisdom
And all the ways of man
You were here
Before the world began
Above all kingdoms
Above all thrones
Above all wonders
The world has ever known
Above all wealth
And treasures of the earth
There's no way to measure
What You're worth
Crucified
Laid behind a stone
You lived to die
Rejected and alone
Like a rose
Trampled on the ground
You took the fall
And thought of me
Above all