Make Your Life Count
Barry Hingston
June 5th, 2018
Make your Life Count !
Mark 2:23 to 3:6 Jesus Heals on the Sabbath
The theme of our service is "making your life count" and we opened with this sobering verse from Chronicles 21:20 : " Jehoram was thirty-two years old when he became king, and he reigned in Jerusalem eight years. He passed away, to no one's regret."
How, if at all,  would you like to be remembered?  What mark would you like to leave on this life when it comes to its inevitable end ? One acid test might be, what would like your epitaph to be?  Here's how one lady was remembered by her loved ones :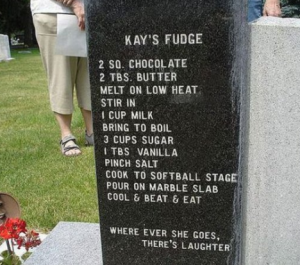 I was reminded of the gravestone of Spike Milligan which I thought contained the line "I told you I was ill!" in typical Milligan style. He simply wanted people to laugh when they read it, just as they laughed at his work in life.   However, on looking it up, it seems that other people had other ideas. Both relatives and the local diocese had issues with his wishes, and it was only after two years that the inscription was allowed, and then  it had to be written in Gaelic, for some reason, in order for it to be approved by the Chichester Diocese. There are always sensitivities in matters like this, but it sounds like a triumph of someone's legalistic righteousness to me, the very thing that he targeted his humour against, and the very thing we read it today's gospel.
The postscript is that  in a survey in 2012 (!!!) his epitaph received nearly two thirds of the vote!  Oscar Wilde's "Either those curtains go or I do", and Winston Churchill who came sixth with: "I am ready to meet my Maker. Whether my Maker is prepared for the great ordeal of meeting me is another matter."
To make your life count you need to understand, in a wise way, the goals of life.
What is life all about, and who decides ?
If we allow our prevailing culture to decide we can fall into traps, and maybe not make our life count as much as we would like.  These traps are subtly present in the values that society takes on, and very subtly written on our hearts, without our permission, but with tragic results.
An example of such a trap would be consumerism and the pursuit of personal pleasure as the goal of life. We might contrast that with the pursuit of personal happiness and peace, which are very different things.  Many a life will be lived superficially happy way, but not remembered by others as having been of value or meaningful because its goal has been purely self-centred.
Another example would be status or position. Making your life count has nothing to so with the status you reach – we see that from King Jehoram's biblical epitaph.
A wasted life is like a man who claims to the very top of life's ladder, and then at its peak he discovers the ladder has been leaning against the wrong wall.
The major trap of Jesus time was not consumerism at all, for such a thing did not really exist for most people.  The problem that Jesus encountered most among his own people at least, was a misguided goal in their pursuit of God, a particular form of legalism that portrays God presented God as a strange sort of aloof legalistic judge, more concerned with how  we are keeping the law instead of how we are treating other people.
It also portrayed the goal of life as avoiding breaking the rules, instead of what I talked about last week, the worship of God expressed in the love of other people. Remember, to live life "avoiding breaking the rules", is not the same as being passionate about keeping them – it has a whole different negative stress to it.
The result was subtle but disastrous – the law, given as a blessing to the people, became a burden. And the priests and scribes, intended to lead people into the presence of God , ended up placing barriers between God and the people. Lives of people, and the life of the nation, were mis-directed and therefore wasted, they were pursuing the wrong goal.
The example here is the Sabbath, a word that simply means "Stop" or "desist", nothing more mysterious than that. However, they took the commandment in Exodus 20:8 "Remember the Sabbath day and keep it holy", and imposed upon that a view of holiness that mirrored their own nature, not the nature of God.  And so healing a person was defined as work, and therefore broke the Sabbath law.
What does Jesus do in this story? He very simply but very firmly does demonstrates three things
 People are not just important, they are everything – the law is designed to mirror God's love towards others.
The rules therefore, become a human response to the love of God, not a set of prohibitions.
The law is lived, much more than it is known. It is easier to know the bible in your head, than live it in your life.
And so He restores Sabbath to it proper purpose. There Is a lovely line in this story which is found in verse  : Then he said to them, 'The Sabbath was made for humankind, and not humankind for the Sabbath; so the Son of Man is lord even of the Sabbath.
Basically Jesus seeks to set right a distorted meaning of their understanding of Sabbath because it was leading them  into a misguided life that neither blessed others, not pleased God, indeed it angered God.
He elevates the summary of jaw and the prophets to the guiding principle of life. – Love God and love your neighbor.
Because God is eternal relationship in his triune being, relationships are the basis of our true worship.  People are the most important thing – God has very few needs if any, and his desire is to see his nature acted out in his people.  Such rules we have are a response to the love of God for fruitful joyous living.
You can see here how much easier it is to read the words of the bible, than to truly live out is real meaning. Living it out as legalistic text is actually very easy indeed, because you really don't have to think very much.  About living the word…….my, that is a tricky thing to negotiate.
If you want your life to count, let Jesus redefine for you what pleases God.
Make your life count by basing it on  the life that Jesus demonstrated, the true  law in action, the fulfilment of Torah. All Jesus did was live by his own Golden Rule, and the summary of the law.
Wouldn't it be great to have that written on your tombstone?  "He or she loved the Lord their God with all their heart, and everyone else too."
Making your life count has nothing to do with how closely you kept the law or the rules, but how closely you appreciated the spirit of the rules  – the love of others.   Making your life count has to do with how much of a blessing you make yourself to others.
Now you are not Stan Laurel, but you do have gifts. Making your life count is employing your gifts with the love of others as your goal. That could be your sense of humour, your creativity, your hospitality, your sense of care…….it will be whatever gift has been planted in you by God to live out your life.
Look to Jesus for your example. Read every commandment, every scriptural exhortation, every psalm every proverb t through the lens of God's self disclosure of himself to us, the person of Jesus.
And go out and make your life count!!!