All Saints 2018 – The Raising of Lazarus
Barry Hingston
November 5th, 2018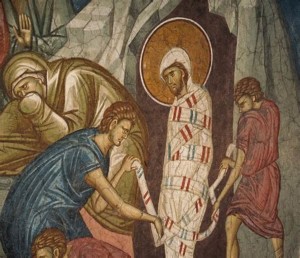 All Saints Day : The Raising of Lazarus – John 11:32-44 and Rev 21
On Sunday we celebrated the age old Christian festival of All Saints. Whilst we may all have our own preferred interpretation of this festival, and indeed of the notion of "sainthood" in particular, the issues raised by the feast, and our bible readings, are so majestic and wonderful, that they deserve our attention.
My hesitancy with All Saints and All Souls is peculiarly British, and peculiarly Protestant. The Christian celebration of All Saints' Day and All Souls' Day stems from a belief that there is a powerful spiritual bond between those in heaven (sometimes referred to as the "Church triumphant"), and the living (occasionally referred to as the "Church militant"). However, in the British Isles, the detail was adopted to accommodate the pagan Celtic festival of "Samhain", marking the end of harvest and the start of winter, when it was believed, the boundaries of this world and the spirit world were very thin. This muddled origin has contributed to the modern day fascination with all things "Halloween", which most Christians understandably rather regret.
However, without getting into a heated debate on the biblical basis or otherwise of that kind of thinking, we can all agree that we stand on the shoulders of giants in the faith that we share, and our very belief in eternal life with our Father grants us a special link with our Christian ancestors who have gone before us. Also, by any biblical definition, we are all saints ourselves, and are connected to the great heavenly witness that has gone before, and in fellowship with the same Jesus Christ.
Turning to our gospel, can we also agree that as we suffer in this life, there is a deep empathetic bond between the heavenly realms and our condition. We are never alone. We stand perpetually in the company of Jesus of the gospels who proclaimed himself Lord of life and the victor over death.
This is the story of Lazarus and we read a part of it. It is an important text, It is the last in a series of seven miraculous signs in John that start with changing the water into wine and culminate with this resurrection story before we arrive at the passion story.     Mary and Martha, known to Jesus, have a brother, Lazarus, who is gravely ill. Jesus is told well in advance, but delays to come to Lazarus, who duly dies of his illness. We pick up the story when Lazarus has been dead for four days. The story so powerful and puzzling. What does it offer us, the living saints in God's church today?
1. Trinity
Theologically we see one of the foundation stories for the Trinity doctrine, and a pattern for our own prayers. We see the prayer between the Father and the Son, in the power of the Spirit (John 11:41-42). We see Jesus acting under the guidance of his Father, in the timing of his actions, which baffled everyone, and in raising Lazarus, which amazed everyone.
Jesus submits to the Father's authority and purpose, despite his own pain, and that of everything else, such that God was glorified in the end. Jesus is an example and model to us in negotiating the crises of life; the outcome remains at all times in the hand of God, and the timing of God's intervention is his, not ours. That can be a powerful aid to our prayers, and source of trust and patience in what we pray for. Jesus submitted to the Father's will and timing, and so must we.
2. Empathy
We see Jesus deeply moved (John 11:33-36), unmistakably empathetic to the sorrow surrounding him. If you wondered where it says, "Jesus wept", it is here. Jesus is distressed, not just that Lazarus was dead, but at the power of death to cause pain to those that remain. This was Jesus "here and now" compassion, unrelated to matters of salvation or eternity.
Jesus, the perfect image of the invisible God, wept (vv35). If you are weeping, Jesus weeps with you. Though he knows the eternal outcome which is glorious, he dwells in the imperfect reality of the now, which is not glorious always, certainly not for us. What are you facing? Be assured that Jesus faces it with you. We often need a re-presentation of the God of Tears who stands with us in pain, not aloof and uncaring in holy heaven, but in the midst of pain and mess.
Mary says, "I know he will rise again at the last say". She expresses the faithful hope of her religion, and tells herself, it will be alright in the end. But Jesus is concerned her "here and now". Jesus invites us sometimes not to be too "religious", stoic, and brave, but to seek the hand of the Father to change the realities of the here and now.
And so Jesus breaks all customs and conventions- opening the tomb, made him and everyone else ritually unclean. He calls forth the resurrected Lazarus and declares: "unbind him and let him go."
In doing so he brings forth a glimpse of the age to come, summarised in our Passage from Revelation 21 which echoes the prophet Isaiah:
"Look! God's dwelling place is now among the people, and he will dwell with them. They will be his people, and God himself will be with them and be their God.'He will wipe every tear from their eyes. There will be no more death or mourning or crying or pain, for the old order of things has passed away." He who was seated on the throne said, "I am making everything new!"
3 Application – Faith, Doubt and Puzzlement
Mary also says, "Lord," Martha said to Jesus, "if you had been here, my brother would not have died. But I know that even now God will give you whatever you ask."
Mary was baffled as well as grief stricken but she still had a mustard seed of faith. Her puzzlement and faith are all mixed up together. Faith is trust in the unseen, but it is not "knowledge". We can have assurance and faith, with puzzlement at the same time. There will always be the unexplained in the activity of God. Indeed, to insist on perfect understanding of the ways of God is a shortcut to a permanent discontentment. God asks us only to trust, to use our imagination, and exercise faith in the unseen.
Conclusion
The basis of the message of All Saints is that we are "all saints" – that which we see God doing with, through and for his saints in the bible is the same as he could so with, for and through us.
Jesus acts despite our understandable doubt. He is not reliant on us having total faith, just enough to roll away the stone, and unbind the Lazarus of our life.
Jesus asks you simple to have a mustard seed of faith, just enough trust in him, to overcome your reliance on self, on religion, or on the ways of this world.