Ash Wednesday
Barry Hingston
April 11th, 2019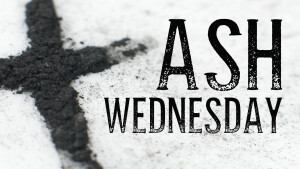 Ash Wednesday and Lent – 2019
Ash Wednesday marks the beginning the Christian Season of Lent. It is not kept in the same way by all the denominations, indeed some hardly mark it at all, but it is observed strongly within most of the Church of England, and of course the Catholic church.
But Lent is more than just a season, and Ash Wednesday is more than just a ritual. Lent can be simply the period of forty days or so when you give up this, or that, simply because in your mind, that is the thing you do. It carries the inevitable danger of legalism, and legalistic sacrifices without an appreciation the point, becomes inner resentment somewhere deep inside.
Ash Wednesday similarly is set aside to concentrate on penitence and marked literally with the imposition of Ash. But once again it carries the danger that we see something special in the Ash or the words and miss the deeper intent. We can embrace both the day and the season perfectly well, yet miss the entire point.
Lent is intended to be a genuine journey of change within the individuals' Christian life, and consistently in the journey of the community of which the individual is a part.
The aspiration of that journey is not what the rules are scrupulously followed, but that an encounter with God takes place. That encounter , it is hoped, will change the inner person – it will be an experience of growth and deepening not in the Christian religion, but in the personal experience of Christ.
Ash Wednesday is intended to be the gateway to that journey.
What we focus on on Ash Wednesday is penitence, so inevitably we think a lot about sin. The danger is that in focusing on sin we can bring about, unintentionally, an accentuated sense of guilt and unworthiness that can be rather saddening, and contrary to the journey that I talked about. If we look downwards too much, we will stop looking upwards.
An appreciation of the days significance need not be sad, and it must not be shame. It is as I say a gateway to something much more positive. The word appreciation conveys a sense of deeper understanding, knowing the depths of, as well as being another word for gratitude.
So, Ash Wednesday is about a set of appreciations which I will, if I can outline for us.
1.        A Gateway to Appreciating our Need
Yes our need is for forgiveness. The Lamb takes away the sins of the word because they need to be taken away. Sin lies at the root of almost everything that assaults us. Realising that need, and appreciating it, is the vital first step to personal salvation and transformation in Christ.
The first beatitude says "blessed are the poor in spirit, for theirs in the kingdom of Heaven." The new Living Bible, a paraphrase, translates this "Blessed are those who realize their need of Him". Today emphasises that Christ's atonement is not an option for mankind. We cannot change, nor can we rest with God, without that understanding.
2.       An Appreciation of the Cross
Through Lent we journey to the empty tomb via the cross of Good Friday.
God made him who had no sin to be sin for us, so that in him we might become the righteousness of God. (2 Cor 5:21)
The appropriate reaction is not shame, for we are what we are, but the deepest gratitude.
Luke 7 : A Sinful Woman Anoints Jesus : …46 You did not anoint My head with oil, but she has anointed My feet with perfume. 47 Therefore I tell you, because her many sins have been forgiven, she has loved much. But he who has been forgiven little loves little." Jesus said to her, "Your sins are forgiven."…
3.       An appreciation of the consequences of the empty tomb
2 Cor 15 : For He must reign until He has put all His enemies under His feet. The last enemy to be destroyed is death.  For "God has put everything under His feet."
Colossians 1 ; For in him (Jesus) all the fullness of God was pleased to dwell, 20 and through him to reconcile to himself all things, whether on earth or in heaven, making peace by the blood of his cross.
So as you take the Ash understand :
It is not an exercise in shame but appreciation
This visible sign is a testimony to others of the power of God to wipe away sin, and destroy death
It signified what has been achieved – these is not sacred but the body of Christ has reconciled all.
So, in a funny way, Ash Wednesday doesn't really focus on us at all, It focuses us on Christ.