Doubting Thomas ? Good for him, I say
Barry Hingston
July 3rd, 2019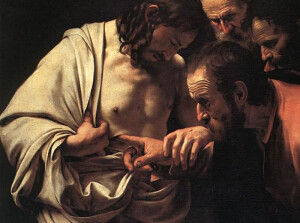 The Story of Thomas – John 20:24-29
Today's Gospel reading (July 3, 2019) recalls the scene after Jesus' resurrection when Jesus appeared to his disciples in the upper room. For some reason, Thomas was not with them, and when they told Thomas they had seen the Lord, he refused to believe them. He said that unless he saw with his own eyes the mark of the nails in Jesus' hands and was able to put his hands into the wound in Jesus' side, he would not believe.
Exactly a week later, when they were all gathered together again and Thomas was with them. Jesus suddenly appeared although the doors were locked. After giving them a greeting of peace, he immediately addressed Thomas. "Put your fingers here and see my hands, bring your hand and put it in my side. Do not be unbelieving but believe."
It is easy to judge of course. We know from other references that Thomas was actually quite a brave and loyal man. And deeply committed to Jesus. But his name is often prefaces "Doubting" Thomas.
Firstly, this is unfair because it characterizes Thomas in a different way to the other disciples. The first eyewitnesses to the risen Lord were Mary Magdalene, Joanna, and Mary the Mother of James, and other women, and they brought the news back to the other Apostles (Luke 24:10) But we are told "…..they did not believe the women, because "their words seemed to them like nonsense." Two of the disciples meet Jesus on the road to Emmaus, and do not even recognise Him then. The rest only believe when Jesus appears in their midst in Luke 24:36-49. Jesus invites them to witness his hands and his feet and to touch him, to show that was bodily resurrected and not just spirit.. You see, the disciples were the same as Thomas.
That we characterise Thomas so is an example of how we read as story, spot the heroes and villains, and side with one and not the other, and comfort ourselves, "we are not like Thomas". We teach our children to do the same. Yet the story, like all scripture, is not a hero and villain story, but a mirror of ourselves. The scriptures reveal us to ourselves; these biblical characters are us, they reveal where we are relative to God and invite us to confess and change.
I like Thomas. I probably am Thomas. His example comforts me. If the truth of Jesus is the truth, then it will survive honest enquiry. Absolute divine truth has nothing to fear from doubt, and good honest doubt, channeled into genuine seeking (as opposed to cynicism) is a totally healthy thing. A Doubter, having expressed their true honest inner feeling, and having investigated their case, then becomes a passionate and committed convert, able to say with Thomas, "My Lord and My God." A cynic walks away and will not be convinced – Thomas was the former not the latter.
To suppress doubt outwardly, but hold it inwardly is simply dishonest. And the only person really fooled is yourself.
Thomas is clearly overwhelmed. He can only burst out, "My Lord and my God!" It is clearly a statement of deep faith. He is the only person in the Gospel to address Jesus directly as 'God'. And it seems to have been made without his touching the body of his Risen Lord.
You see, really we all need to see Jesus with our own eyes. How many people actually have a second hand faith – a faith based on the testimony of others but have no story of their own to tell. Thomas, though gently chastised by Thomas, had his own story and went on to lead the life and death of a passionate martyr.
We need to see Jesus with our own eyes too. The eyes we see Jesus with however, as Jesus clearly goes on to say, are the eyes of faith. Faith is based on some level of personal encounter with Christ, and a personal response to the call of Christ. It is a weak and feeble thing if it simply means belonging to a tribe, merely following the lead of others and gaining some social acceptance. That may well be where church and faith start for many people, but the passion of Jesus is that it leads somewhere else, to a state where we know him, and he knows us – not that we "put our fingers into the holes in his hands and side", no more than Thomas actually needed to in the end (despite Caravaggio's lurid depiction above) , but metaphorically yes.
We put our fingers into his side and witness his hands and feet when we place our belief and trust into the Cross. The wounds on Jesus body signify the Cross and its role in the salvation of mankind. The faith of Christian is placed in the death of Christ in the victory won on the cross and all it means of freeing us from the power of sin that distract our world and life.
Seek a personal encounter. You need to "see him with your own eyes" and place your own trust in him and the Cross. Confront your doubts honestly and meet Jesus face to face. Thomas is not a bad model actually, we would do well to live a life like his.