Ash Wednesday 2020 – here we go again ?
Barry Hingston
February 25th, 2020
Ash Wednesday 2020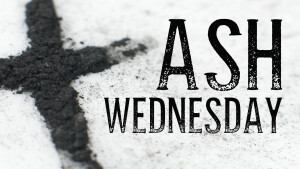 12:2   Do not conform to the pattern of this world, but be transformed by the renewing of your mind. Then you will be able to test and approve what God's will is–his good, pleasing and perfect will.
Prayer : This Lent, let your door stand open to receive Christ, unlock your soul to him and offer him a welcome in your mind. And then you will see the riches of simplicity, the treasures of peace, and the joy of grace.
Lent begins, again.
Its duration and its metaphor direct our thoughts to the desert, where Jesus spent 40 days of solitude being tempted, or perhaps the 40 years that God's people won't be formed in the desert before reaching the promised land.
We need to ask ourselves what is it for?
Is it a time for austerity and sorrow, a self-denial that breeds negative inward emotions such as guilt or varying levels of self-dislike. Perhaps there is enough of that in life already ; honest self-assessment is always good, but surely the trajectory needs to be upwards not down. If we look inwards, it must be the eventual purpose of looking outwards.
So perhaps Lent is more of an opportunity to have a fresh look at things, put things right between us and God, and prepare for Spring in our lives. Not just bemoaning the old, but allowing new life to emerge from a "spring clean". Lent after all, means "lengthen" , a picture of the days getting lighter and longer, the retreat of darkness and the new life of Spring. Lent is a threshold of something wholly positive and good, ending with the victory of Easter Sunday.
Both images save a place. New life cannot take place without the death of the old. The plants in my garden that come up from bulbs in the ground, also need to die back to allow the new growth to come. But the dying has a point – it is not just morbid passing or punishment for the shortcomings of the past, it is a springboard for something positive.
John the Baptist and Jesus exhort us to "Repent", by which they mean, completely renew your thinking. come back to God from where you are. Let go of old things that hold you back, relinquish them, cast them aside. It may be an action, something that you actually do that is wrong, selfish, harmful, greedy or vain. But, you know, the vast majority of these inhibitors are not actions at all, but attitudes. An attitude is a condition of the mind that you have arrived at, a processing of the inner thought life that hardens your heart or causes you to give up doing what is right. Wring actions flow from wrong attitudes.
A hardened attitude may mean you cannot see the light of God, or the goodness in others. It may make forgiveness hard or receiving grace from God even harder. The source of that hardness of heart is sin, and Christ has conquered sin. His constant forgiveness, year in year out (and yes, we do this every year) means that we can every year, renew our inner life. Christ is not the saviour of the second chance, but the third, fourth, fifth, the seventy times seven chance – if last year's Lent was a washout, if you ate chocolate on the Thursday after Ash Wednesday – then no matter. Come back to Jesus again,
This is because we are not invited to turn inwards on ourselves in retribution and hatred, in pointless introspection and harmful, damaging perfectionism. We are asked to do something much more wonderful; to seek a new communion with God and with others. We are invited to renew that attitude to God that sees him walking alongside us, sharing, not hovering above us, judging.
How do we do that? In each of you is something God-given. It is hard to give it a name, but since we are in the desert let's call it a thirst. It is a desire for the infinite, a God shaped hole in each of ourselves, a bit of us that cannot find rest until we find rest in God. It is perpetual hunger, and a permanent aspiration – an ambition that cannot be turned off.
Lent invites you to reconnect with that desire for God, regardless of what a mess you've made if it in the past. Lent is like the first day of the new school year – new exercise books, new text books, a newly sharpened pencil – no mistakes yet, because last year is dead and gone.
If you intend to give anything up for Lent, consider it in the light of turning back to God.  When you recall your fast, when the tempting chocolate bar or sip of alcohol, or meat or whatever it beckons you, the act of rejecting it focuses your mind on why you are doing it, namely to recall the love of God and his gift of Jesus for you. At that moment, your absence becomes an act not of merit, not of pride, not an achievement or even a witches, but an act of worship.
Let go of hard attitudes, disappointment either with God or with yourself, and start again. Repent. Turn. Change. Rethink. Ash Wednesday is the first day of the rest of your life.
I sacrifice this moment of personal pleasure as a sign of my thanks to you O God, for loving me to the end of the world, and as a testimony to my desire to grow in your likeness.
Amen